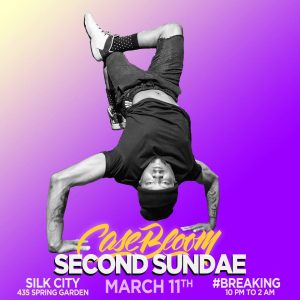 We're back to the breaks with our original one on one breaking battles. This month, DJ Case Bloom returns to the decks to bless us with plenty of tasty musical treats. And we expect a lot of grins, spins, and wins from all our b-boys and b-girls on the dance floor.
The #breaking competition starts at 10:45 pm. There will be open sign-ups for anyone interested in battling.
$200 prize goes to 1st place
1 on 1 Breaking battles judged by
Rukkus – Broad Street Bullies
DK – KRS/Repstyles
TBA
This event is a dance party open to dancers and non-dancers alike. The goal is for everyone, amateur and professional alike, to groove to the music, open up and let go. Everyone is encouraged to dance and get free, open, lit, whatever yah wanna call it!
Hosted by Steve Believe
10 pm to 2 am
$5 to party
$10 to battle
Must be 21
– – – – – – – – – – – – – – – –
instagram @sundaephilly
twitter @sundaephilly
website – www.sundae.ws
soundcloud – www.soundcloud.com/sundae
mixcloud – www.mixcloud.com/sundae
mixlr – mixlr.com/sundae