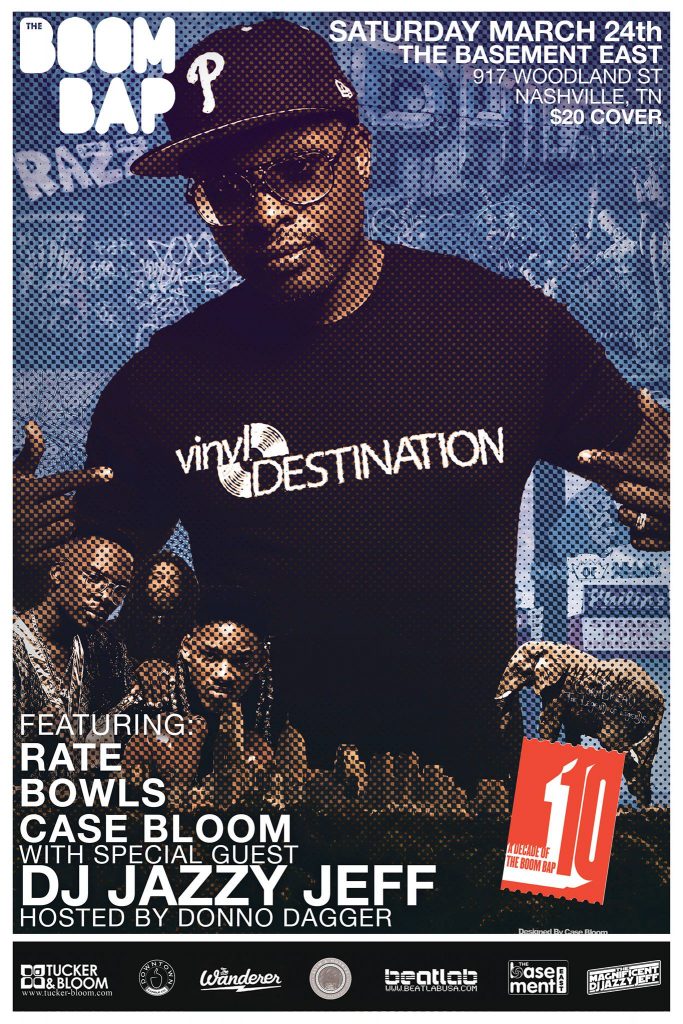 Saturday March 24th at The Basement East in Nashville, The Boom Bap featuring DJs Rate, Bowls, and Case Bloom with special guest DJ Jazzy Jeff. Doors at 9 pm $20 cover.
*Special Guest: DJ Jazzy Jeff
————————–————————–————————––
DJ Jazzy Jeff was born in West Philadelphia and developed a love of music at an early age. Jeff was just 10 years old when he started spinning records at parties using his family's basement as a training ground for his expert mixing. Since 1985, DJ Jazzy Jeff has wowed us with his flawless turntable skills, innovative production and musical versatility.
From the success of "DJ Jazzy Jeff and the Fresh Prince" with partner Will Smith, to the critical acclaim of his production company "A Touch of Jazz", Jeff proved time and time again that he would always be a force to be reckoned with. And he continues to represent with his solo projects, collaborations, mixtapes and live shows. His love of music shines through in everything he does.
Most recently, DJ Jazzy Jeff has been busy traveling the globe. With each set, he takes fan on a musical journey. Jeff satisfies his passion for sharing good music with two annual European tours, regular tours of Canada, Asia, Australia, New Zealand and the Middle East, and shows across the US throughout the year. And he chronicles all of his travels in the increasingly popular Vinyl Destination, a web series that documents DJ Jazzy Jeff's experiences on and off stage.
Though DJ Jazzy Jeff is busy playing good music all over the world, he hasn't stopped producing great music. He is currently working with Philadelphia newcomer, Dayne Jordan. The duo recently completed a project entitled Memoirs of Dayne Jordan, to be released in Spring 2015, In the meantime, the pair has released a number of singles and videos including Room Test, All About the Art, I Want it All, Einstein (prod. by DJ Ferno) and Play Dat.
Over the course of his career, DJ Jazzy Jeff has achieved many accomplishments including a DMC Championship and multiple GRAMMY and American Music Awards and nominations. But he is a humble man who is still doing it as his 2002 hit said: "For Da Love of Da Game."
————————–————————–————————–—————
THE BOOM BAP is Saturday March 24th @ The Basement East
21+
9pm
$20 cover
Featuring DJ's
RATE (@DJRate)
BOWLS (@Bowls615)
CASE BLOOM (@CaseBloom)
Special Guest: DJ JAZZY JEFF (@Djjazzyjeff)
FOUR TURNTABLES
FOURTH SATURDAYS
MORE MADNESS THAN CAN WE CAN LEGALLY DISCLOSE.
http://www.theboombaplive.com/
@theboombaplive
#THEBOOMBAP
#TheBoomBap10