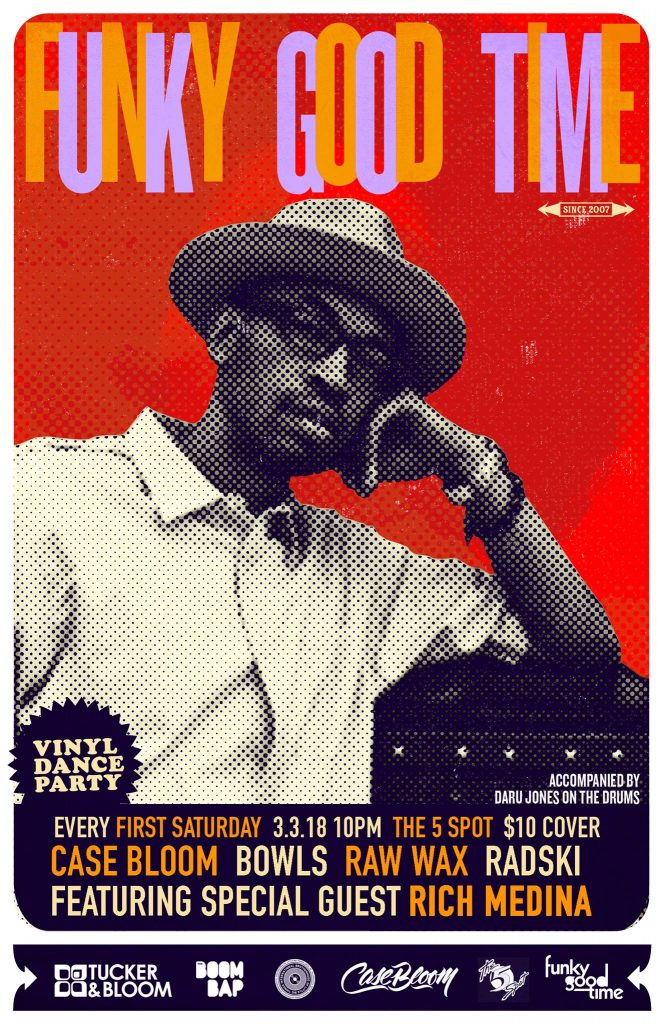 Nashville! Saturday March 3rd is the return of FUNKY GOOD TIME at The 5 Spot! DJ's Rad Ski, Bowls, and Case Bloom with Daru Jones on the drums + Special guest Rich Medina! LET'S DANCE!
Rich Medina:
The Man, The Myth, The Legend – aka Big Rich,aka Ricardo Grande, aka Lil Ricky, aka Your Father. There are few nightclub DJs that haveaccomplished as much on a global scale as Rich Medina. From his humblebeginnings as a young b-boy-turned-DJ in Lakewood, NJ, to his current statusmanning the decks as one of the most popular DJs in Philadelphia NYC, RichMedina has consistently taken multi-ethnic crowds on a sonic journey throughhip-hop, house, Afrobeat, funk and soul, unearthing one musical gem afteranother, for almost 20 years.
Rich Medina cemented his name in the DJ worldwith his infamous 90's partnership with Cosmo Baker at The Remedy inPhiladelphia. In 1998, his Fun party with DJ Language was part of turning theLower East Side of Manhattan into the new hot spot for club life. Then came themother lode, Lil' Ricky's Rib Shack, a weekly dance function that started outas a 20-person party at APT in 2001, and evolved into an irreplaceable mid-weekNYC institution for over 8 years. There, he connected with fan and hip-hoplegend Q-Tip in 2005, eventually combining forces to create the Friday nightweekly called Open at the Andrew W.K.-owned Santos Party House in 2007, and wassoon considered the hottest Friday night party in NYC for the next 2 years.
Rich introduced a new generation of people toAfrobeat music in 2001, with Jump N' Funk, the first and most consistent USdance party dedicated to the late African musical icon, Fela Anikulapo Kuti.Rich and the Jump N' Funk brand recently traveled to San Francisco, LA, andAtlanta headlining Knitting Factory Records' Felabrations!, a nationwide seriesof events promoting the re-release of The Fela Kuti EMI Catalog.
No less revered is Rich's Happy Feetparty—where he and another pioneer of the turntables, Nuyorican DJ BobbitoGarcia have traded off dance, salsa, and soul music at clubs all around theworld. Next of his branded events in line would be Props, the continuation ofLi'l Ricky's since the closing of APT in March of 2010. In 2008, he alsoco-founded What The Funke, a James Brown/Fela Kuti tribute party with DJSpinna.
In addition to his own events, Rich has performed in front of crowds of thousands, DJing shows with artists like LaurynHill, De La Soul, Erykah Badu, Seun Kuti, Tony Allen, Nathan Haines, Roy Ayers,Gil Scott-Heron, The Roots, Jill Scott, Antibalas, Zap Mama, and Femi Kuti,among many others. From NYC to LA to London to Tokyo, and everywhere in between, music lovers know not to miss a club night when Rich Medina is manning the decks
Funky records! Live Drummer! Dancing! AIRHORN!!
SATURDAY MARCH 3rd 2018. 10PM. $10 COVER.