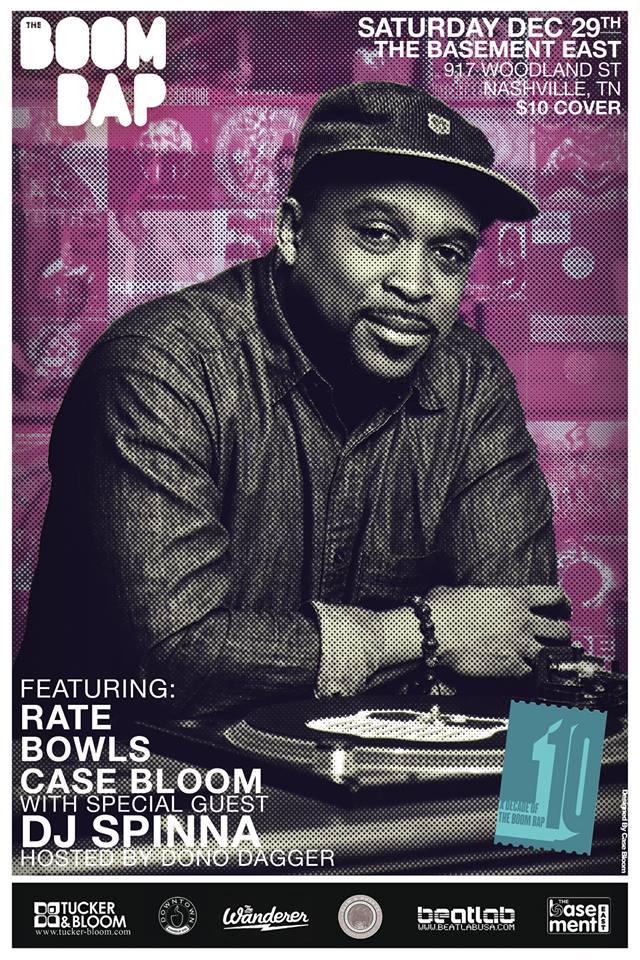 THE BOOM BAP is SaturdayDecember 29th 2018 The Basement East Nashville.
21+9pm $10 cover. Special Guest DJ SPINNA
—————————————————————————–
—————————————————————————–
DJ Spinna is something of an anomaly in music. A humbling example of what it takes to truly succeed within the framework of multiple fields. With a steadfast work ethic, an obsessively extensive vinyl library and the willingness to pursue the full extents of his roots (Funk, Soul R&B and Jazz), foundation (Hip-Hop) and future (Electronic/Dance music) without any restraints. A cornerstone of Hip-Hop's late 90's indie-uprise, DJ Spinna made much of his first impression on listeners as the musical background of his group The Jigmastas (having released an impressive slew of 12" singles on his then self-run label Beyond Real during this time) as well as providing the canvats for an array of that era's lyrical giants including Eminem, Mos Def, Talib Kweli, Pharoahe Monch and De La Soul.
Turning heads throughout the industry, Spinna's sonics soon infiltrated numerous genres. Tapped by everyone from Mary J. Blige, to Motown Records for his brilliant Michael Jackson remix of "We're Almost There". It's here his production presence would flourish greatly, as Spinna would go on to revive and revise Jazz and Soul marvels like Donald Byrd, Eddie Kendricks, Betty Carter, Roy Ayers and Al Jarreau. Though it goes without saying his most memorable remix goes to his monumental version of Shaun Escoffery's "Days Like This", transforming it into a worldwide dance floor anthem. Which in turn, catapulted Spinna into his now stately touted presence in the soulful house music scene. These releases resulted in the signing to BBE records in 2002 where Spinna released his cult classic fulllength production LP "Here To There" which crossed multiple genres and garnered the attention of serious music fans worldwide.
With so much studio work, it's a marvel Spinna travels as much as he does. The constant, globe trotting performances he's become equally famed for have brought him as far as Iceland, Croatia, Australia, and South Africa as well as countless jaunts throughout England, and the U.S. Also, his hugely successful tours of Japan, where Spinna is held in the highest regard throughout the country for his craft in music. Not always the lone crowd-controller, Spinna's collaborated on stage alongside contemporary luminaries like Gilles Peterson, Questlove, Jazzanova, Dimitri from Paris, Joe Claussell, Osunlade, Q-Tip, Jazzy Jeff, Kenny Dope, Keb Darge, DJ Scratch, DJ Shadow & Cut Chemist. He's a true showman – versatile as ever.
Yet of all accomplishments, nothing compares to DJ Spinna's celebrated Stevie Wonder inspired WONDER-Full DJ performances. Garnering overwhelming fanfare each occasion done – whether NYC, LA, DC, San Francisco, Amsterdam, Japan or beyond – if a WONDER-Full event is booked at a club you can put money on a line around the block and hundreds of Stevie Wonder admirers joyfully rocking the house. The success of these events have led to several collaborations between Stevie Wonder and DJ Spinna including remixes for "My Love Is On Fire" and "Sweetest Somebody" from Stevie's 2005 "A Time To Love" release. Most notably, in October 2012 Spinna performed an opening DJ set for the "United Nations Message Of Peace Concert with Stevie Wonder" including appearances by Sting, Janelle Monae, Varlerie Simpson, and other luminary artists.
—————————————————————————–