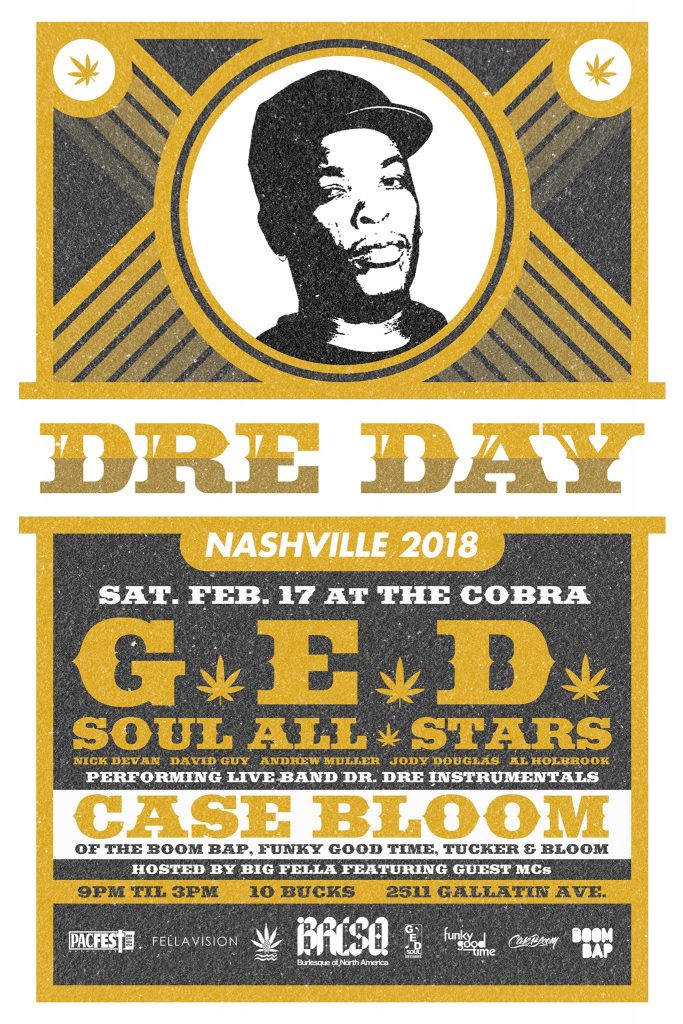 The annual celebration of Dr. Dre and his legacy is at The Cobra Nashville! What began as a one-off party in Minneapolis, it has since grown to include over a dozen major North American cities, with a roster of renowned DJs, Producers, and Artists uniting each year, all for the love of Dre.
As our featured live band for 2018, we're excited to present the G.E.D. Soul All-Stars, aka Nicholas DeVan, David Guy, Andrew Muller, Joe D Douglas, & Al Holbrook. Also, we've got DJ / Crowd Pleaser, Case Bloom(Co-Founder & Co-Owner of The BOOM BAP and Tucker & Bloom, the mind-child of FUNKY GOOD TIME, and part of the Little Big Things Crew) – PLUS we will have special guest MC Keith Remsteele Proffitt & the host with the most, Big Fella!
*GIN & JUICE drink special*
STICKERS / MAGNETS / WINTER HATS / SCREEN PRINTS / KOOZIES / & 40z 4 SALE + "The Chronic" PHOTOBOOTH!
The Cobra (Main Room)
2511 Gallatin Ave.
Nashville, TN
9pm-3am, 21+
$10 at door