Nashville make sure you don't miss THE BOOM BAP Saturday November 25th with the one and only DJ Boogie Blind as a special guest. It's been a min since Blind came down to spin records with us and it is always a treat. $10 Cover 9pm The Basement East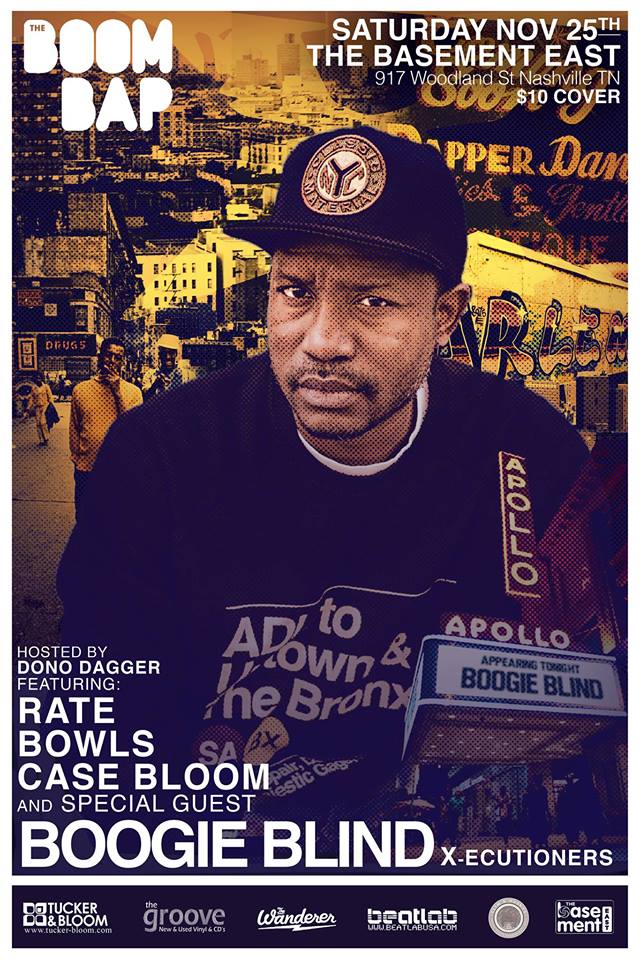 Here's a clip of Blind completely wrecking shop at Rock and Soul NYC
————————–————————–————————
Boogie Blind is one of the most respected and trusted DJs in the industry. This 2001 Vestax World Champion embodies the phrase "turntablist" and "DJ" in every sense, he's been Djing since he was 5 years old. Blind is also a member of the legendary X–Ecutioners, a tight knit crew of DJs known around the world for their turntablist skills. The crew's roster consists of the late Grand Master Roc Raida, Rob Swift, Mista Sinista, Total Eclipse and Precision. Blind has been featured on tours such as Anger Management, Rock the Bells, Coachella, MTV Icons, Sony Playstation, ESPN Espy Awards, NBA All-star Weekend, Echo Getting Up Festival, Montruex Jazz Festival, Heineken Synergy Tour throughout the Caribbean, and the annual Dub Car Show.
In the past he has been a tour DJ for Fat Joe, Jim Jones, and Jean Grae. He currently spins for Pharoahe Monch and D.I.T.C. Recently Blind joined Beatminerz Radio, which is run by legendary super producers Mr. Walt and DJ Evil Dee. On his show, The Execution (Thursdays, 6pm – 8pm EST), listeners get a taste of various genres including but not limited to Hip-Hop, Funk, House, Breaks, Reggae, R&B, Samba, Jazz and Rock. With every tour, show, and party Boogie Blind's reputation grows, proving he is a force to be reckoned with.
————————–————————–————————-
The BOOM BAP is Saturday November 25th @ The Basement East
21+
9pm
$10 cover
Featuring DJ's
RATE (@DJRate)
BOWLS (@Bowls615)
CASE BLOOM (@CaseBloom)
Special Guest: DJ BOOGIE BLIND (@boogieblind)
FOUR TURNTABLES
FOURTH SATURDAYS
MORE MADNESS THAN CAN WE CAN LEGALLY DISCLOSE.
http://www.theboombaplive.com/
@theboombaplive
#THEBOOMBAP
————————–————————–————————-