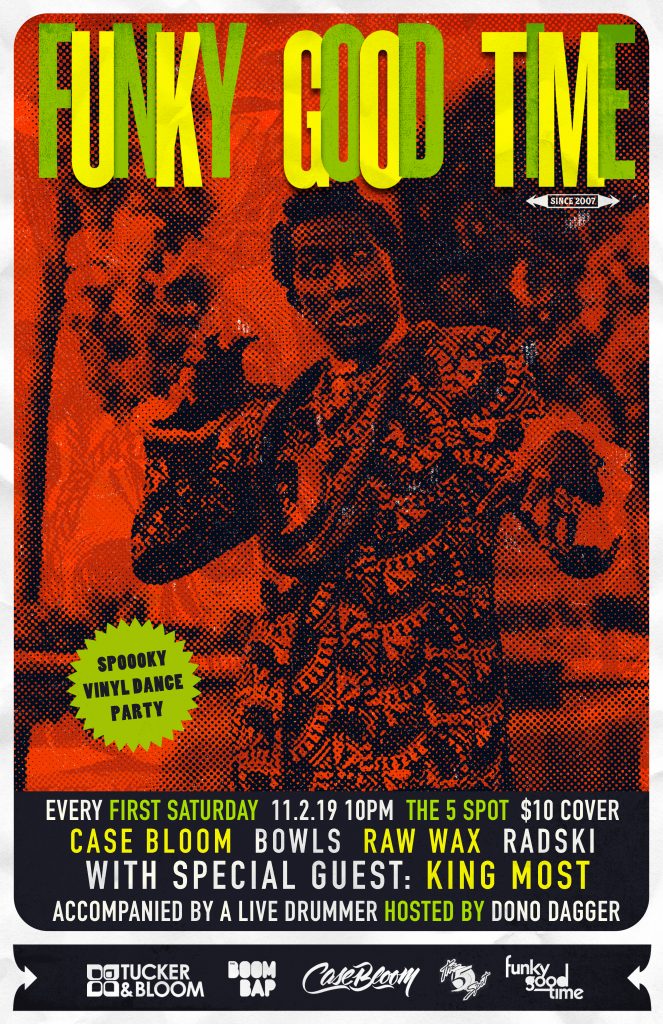 Nashville! Saturday November 2nd is the return of FUNKY GOOD TIME at The 5 Spot! 2019 makes 12 Years of the party and we're excited to be bringing you another year of Funk, Soul, Disco, Latin, Boogie, and R&B records! DJ's Rad Ski, Raw Wax, Bowls, Case Bloom with special guest: KingMost ( SF/CA )
—————————————————————-
————-
KING MOST:
DJing since he was a teen, King Most has continued to evolve. Built on the foundation of strict practice and discipline there's a reason why he remains in demand with quality events nationwide for tech giants (Facebook, Twitter, UBER), art institutions (The SF MoMA, The Getty Museum), and high profile event planners. With a steady output of remixes that he's branded "Redirections" his own music can be found in the sets of celebrity DJs, Radio Stations like Apple Music, The BBC, and KCRW, to fellow everyday selectors. On top of learning jazz piano his other focus has been "Opening Set," an up-and-coming podcast aimed at highlighting his fellow DJs from across the spectrum regardless of race, age, gender, or level of success. King Most's live truly revolves around music.
—————————————————————-
————-
Funky records! Live Drummer! Dancing! AIRHORN!!
Costumes Optional ( It's right after Halloween so do you )
SATURDAY November 2nd. 10PM. $10 COVER.
——————————————————————————-
$10 at the Door!
Dancing!
Drinking!
Dancing!
Funky Good Times!