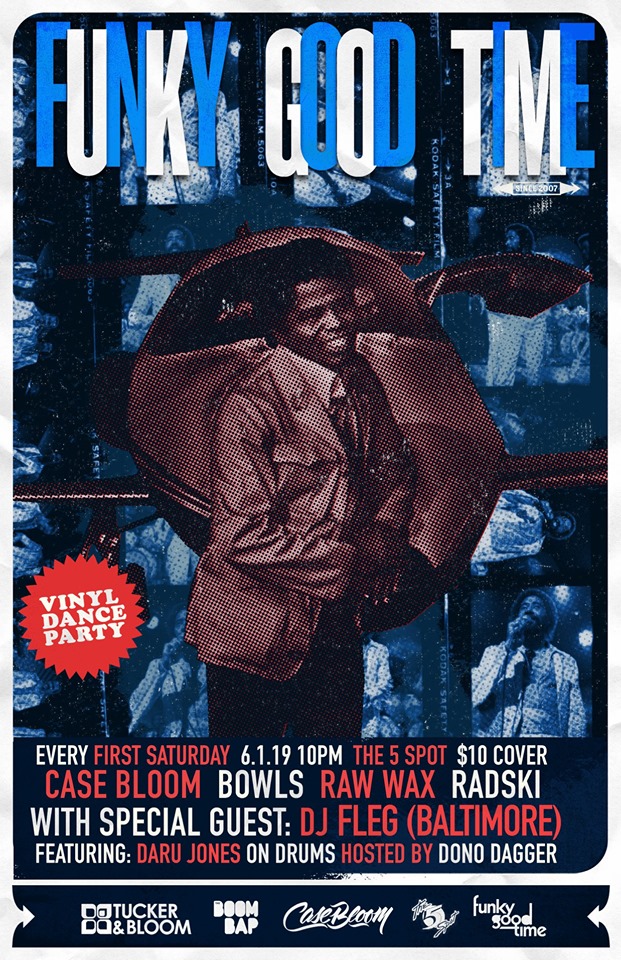 Nashville! Saturday June 1st is the return of FUNKY GOOD TIME at The 5 Spot! 2019 makes 12 Years of the party and we're excited to be bringing you another year of Funk, Soul, Disco, Latin, Boogie, and R&B records! DJ's Rad Ski, Bowls, and Case Bloom on the wheels and an opening set by RAW WAX! Daru Jones Official on the drums +
Special guests DJ FLEG ( Baltimore )
—————————————————————-Stephen Fleg aka DJ Fleg is a DJ, Bboy and Producer from Baltimore, Maryland. Fleg has shared the stage with artists like Talib Kweli, Grandwizard Theodore, the Cold Crush Brothers, DJ Q-Bert, Busy Bee, Lords of the Underground, Crazy Legs, Onra, Kon, Teddy Douglas, Rich Medina and Brand Nubian among others. With a background in jazz and classical, Fleg's no stranger to the world of music. He combines formal training with influences from Funk, Disco and Boogie to create his unique sound. In a word- Soulful.
Fleg has been touring the U.S. for the last 4 years as well as doing many international events In places like France, Italy, Austria, Argentina, Switzerland, Germany, Holland, Korea, and Japan. Fleg's Funk, breaks and hip hop mixes are played worldwide and he is constantly digging for and producing records to come up with fresh material for the Bboy and Funk community. His first 45 rpm record came out on the Breaking Bread label last year, in 2013. In October 2014 he co-founded a record label called Soul Movement Records which aims to bring the world new takes on the old Funk music he plays. In addition to his travels, he is actively involved with the bboy and funk community in his hometown of Baltimore.